AQUA
Fulfill your every culinary craving at AQUA, our waterfront restaurant in Tampa boasting global seafood flown in daily. AQUA is designed to entertain your every sense, highlighted by a water-encased walk-in wine cellar and a state-of-the-art open kitchen, where our professionally trained chefs prepare sumptuous meals inspired by ingredients from around the globe. To learn more, visit AQUA's official site or call us at (813)675-8700.
Click to view: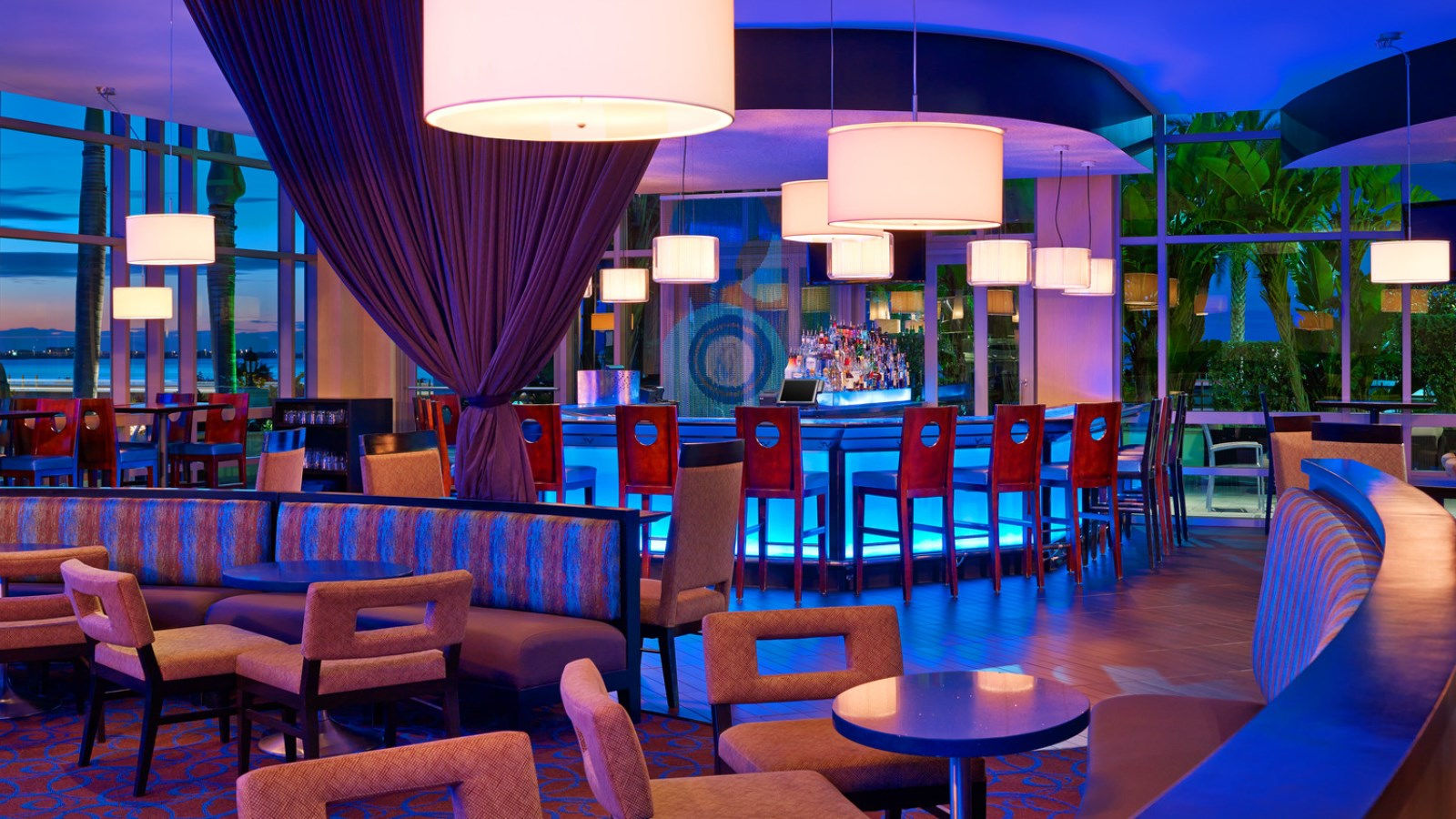 Hours
Monday - Friday
Breakfast: 6am - 11am
Lunch: 11am - 5:30pm
Dinner: 5:30pm - 10pm
Lounge: 11am - 11pm
Sushi Happy Hour: 11am - 6pm
Saturday
Breakfast: 6am - 7am
Breakfast Buffet: 7am - 11am
Lunch: 11am - 5:30pm
Dinner: 5:30pm - 10pm
Lounge: 11am - 12am
Sunday
Breakfast: 6am - 8am
Breakfast Buffet: 8am - 12pm
Lunch: 11am - 5:30pm
Dinner: 5:30pm - 10pm
Lounge: 11am - 11pm
Starbucks

Enjoy freshly brewed coffee, Italian-style espresso, or decadent pastries in our waterfront StarbucksTM coffee shop. View Menu >>
Hours
Monday - Friday: 5am - 7pm
Saturday: 6am - 7pm
Sunday: 6am - 6pm
More Restaurants in Tampa
Westshore District
Ocean Prime
Ocean Prime showcases a large selection of prime seafood and steaks, as well as handcrafted cocktails and world-class wines. Ocean Prime encompasses retro elements of a supper club, including warm finishes and rich woods, all combined with contemporary styled sheer drapery, state of the art lighting and granite bar tops.
Charley's Steakhouse
All of Charley's steaks are selected from only the best 3-year-old grain feed steer, graded USDA Prime and Choice. They flame-broil their steaks on a custom-built, natural wood-burning pit.
Zen Bistro at International Plaza
Along with traditional and modern sushi, Zen Bistro offers a full menu with dishes from all over Asia.

Seasons 52
Seasons 52 is a fresh grill and wine bar that invites guests to discover the sensational flavors of a seasonally-inspired menu and award-winning international wine list in a casually-sophisticated ambiance.
Rocky Point
Bahama Breeze
Bahama Breeze brings the feeling of a Caribbean escape, featuring Caribbean-inspired seafood, chicken and steak, handcrafted tropical drinks and a vibrant island atmosphere.
Rusty Pelican
The Rusty Pelican Restaurant is the premier location in Tampa and Pinellas for elegant atmosphere, enchanting food, and special banquets with breathtaking views and picturesque backdrops for memorable events.
South Tampa
Bern's Steakhouse
Bern's Steak House has been doing things differently since opening its doors in 1956. Bern's takes great pride in an unwavering commitment to using only the highest quality steaks, painstakingly dry-aged and hand-cut to order, and then charcoal broiled to your exact specifications.
Ceviche Tapas
A unique Spanish Tapas Restaurant, Ceviche's menu is comprised of over 100 different hot and cold tapas, as well as paellas and cazuelas. An exclusive Spanish wine list has been carefully designed and the Sangria has been voted "Best in Tampa Bay."
Timpano Chophouse
Timpano Chophouse & Martini Bar offers a menu that marries award-winning cuisine with a combination of steaks, chops and pasta.
Ybor City
Columbia Restaurant
A fixture since 1905, Columbia is the jewel in Ybor City's culinary crown. Operated by the 4th and 5th generations of the Hernandez Gonzmart family, this landmark restaurant features toothsome Spanish/Cuban classics, a phenomenal wine list and paella that's arguably the most satisfying in Florida.
Samurai Blue
Samurai Blue, the coolest sushi and sake joint this side of Neo-Tokyo has designed a combustible array of pan-Asian delights with the power to level your perceptions of what good food can do.
Carmine's 7th Avenue
Carmine's is one of the most popular restaurants around. With wooden floors, an original tin ceiling and walls decorated with nostalgic memorabilia create an atmosphere of rustic ambiance and old world charm. Authentic cuisine, a full bar, informal atmosphere and friendly service make this establishment popular.